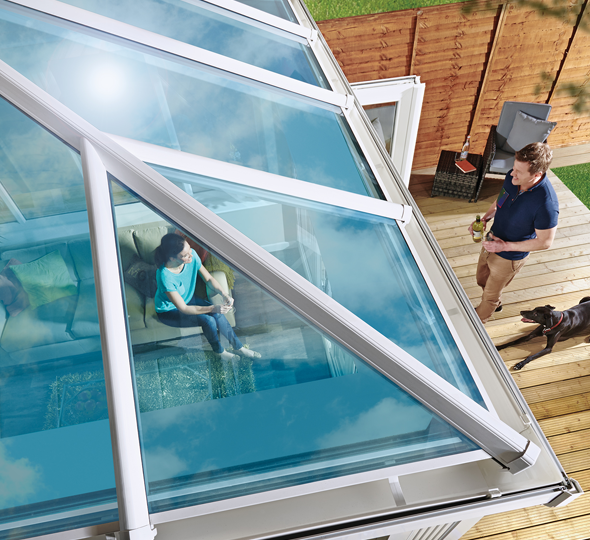 Our top conservatory decorating ideas
Getting a new conservatory installed should be exciting. With the potential to be a multi-purpose space in your home, it's an opportunity to get your creative juices flowing. 
As a blank slate to use as you please, the only limit is your imagination. So, whether you're after a new lounge area, houseplant haven, games room, or home office, it's perfectly possible to turn your conservatory into whatever designated space you'd like it to be.
Still, creating the homely conservatory of your dreams does take a little time and effort, not to mention inspiration. In other words, things you might not necessarily have in abundance right now! Don't worry though, that's why we're here to help. 
We've written this article to share some helpful tips for putting together a conservatory that reflects your style and suits your needs. Here's our best conservatory decorating ideas, plus some DIY shortcuts.
What is the best colour for a conservatory?
Depending on your outlook, you'll either be pleased or frustrated by this answer. In our opinion, there really is no 'best colour' for a conservatory. As with most things in the world of interior decorating, it all comes down to your preference and budget.
For most people, a 'conservatory' means a white uPVC and glass box. But this is only because, for a long time, the majority of conservatories were like this. It was the norm for early conservatories and orangeries to be made from white-painted wood or metal.
This isn't the case these days. And those with a particular vision of their conservatory will usually find that they can turn it into a reality. For instance, we offer a wide range of colour finishes on our conservatories. So, whether you're after a sleek aluminium frame, a deep-green nature room, or a rustic woodgrain finish, the choice truly is yours.
This being said, colour still requires some careful consideration. You might want to think about colour in terms of the intended use of your conservatory, as certain colours tend to work better for particular room functions.
For example, wood finishes might be better for a houseplant-filled, calm and productive home office, or even a relaxing reading room. But if you want to create a home office with a chic, professional atmosphere or a dining room for wooing guests, then darker colour shades will create a much more glamorous feel.
If you're not too bothered about the colour (it isn't the be-all and end-all, after all) then you can always go with classic white. Though it isn't as trendy or 'exciting' as other finishes, It's the standard go-to for a reason. White will keep your conservatory a neutral and versatile space for years to come. And if you ever want to switch up the aesthetic, you can do this by changing your furniture or adding some colourful textures and soft furnishings.
How do I decorate my conservatory?
When you're decorating your conservatory, there are a few questions that you can ask yourself. 
First, what are you going to use your conservatory for? Why did you want one in the first place? Your answer to this could be as simple as 'I wanted a space to relax' or 'I needed an extra room to concentrate on my work'. Once you've reminded yourself of the goal of your conservatory, it becomes much easier to structure your thinking about decoration.
Next, what core bits of furniture or components would you like to include in your new space? Think about armchairs, desks, rugs, blinds and curtains, artwork, storage, entertainment systems etc. Really, you just need to plan out what you want in your room. Keep in mind that you'll also need to consider lighting, heating and other utilities that are crucial to a usable space.
This might seem like a big job, but don't be too intimidated. The easiest thing to do is to walk around the space with pen and paper, jotting down ideas or sketching out an approximate floor plan. It doesn't have to be perfect, but it's important to have a rough idea of the pieces you'll need to fit in.
If you get a case of 'conservatory decorator's block', then perhaps you could call up your conservatory-owning friends and family for some bright ideas. Sometimes all it takes is a bit of outside inspiration. See how they've kitted out their space and ask them if they have any tips. 
Having a flick through some interior design magazines, catalogues, or mood board sites like Pinterest is also a good call. Even if you find things that you don't like, this can be helpful too!
While our expertise is in conservatories and glazing and we aren't interior designers, we do know a thing or two about creating comfortable and stylish spaces. If you'd like to run some ideas by us, we'd be happy to offer some suggestions. Just give us a call!
How can I make my conservatory more homely?
We get it — of course you'll want to make your conservatory as comfortable as possible. And as you're turning your thoughts to creating a homely space, you might have realised something. The same things that make conservatives sought-after extensions can work against them. 
That's right. Brightnesses, sleek design, and airiness are all good and well, but they can sometimes make the room feel somewhat sterile, plain, or just a little bit empty.
This being said, this can easily be fixed. Adding soft furnishings can balance out the 'hardness' of an all-round glazed conservatory. A cushion here and a rug there will fill your space with texture and personality. So even just this interior design tactic can make all the difference. A rounded conservatory, such as a Victorian style, also makes it easier to develop that homely feel. 
To add a little bit of life, consider placing some plants around the room for an orangery-esque atmosphere. They're great for your well-being and add a pop of natural colour.
If you'd like the actual structure of your extension to be less 'open' and more 'cosy', then a sturdy tiled-roof conservatory might be an option. They give the best insulation possible in the winter, and give you a nice shady space in the summer.
How can I make my old conservatory look good?
Old conservatories can get old — like everything! If your conservatory is still fully functional and structurally sound, but you're bored of your stale interior, just giving your furniture a bit of a rejig can go a long way.
If your conservatory is beginning to creak around the edges, make sure you fix any peeling paint or draughty windows and doors. We can help with any maintenance or upgrades you might require. Or if you need a full replacement, visit us at our Hayle showroom — we'll talk you through the ins and outs.
Some of our conservatory decorating top tips
To recap everything we've covered:
Think about your conservatory's purpose and the furniture you'll have in there if you're struggling with your colour choice.

Stuck for inspiration? Ask family and friends!

When in doubt, soft furnishings and plants create a homely atmosphere.

If your conservatory is getting old, make sure you keep it properly maintained.
Remember, there is no 'wrong' way to go when it comes to interior design. Stay true to your tastes and happy decorating!
Want some more inspiration? Browse these conservatory ideas, take a look at our brochure, or give us a call to talk through your plans.