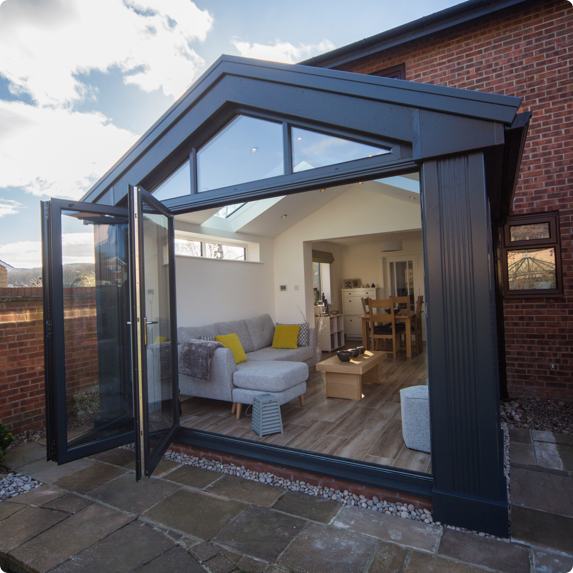 Modern and Traditional Conservatories
Live more luxuriously, immersed in natural daylight with the game-changing addition of a conservatory.
For a very reasonable price, your residence can be transformed, with all family members benefiting from the addition of a stylish and versatile new space.
At CTG Windows, we're specialists in making conservatories and orangeries of every kind. So whether you want yours cosy or cavernous, traditional or contemporary, simple or ornate, curved or square, gabled or pitched, we'll design the perfect bespoke solution for you.
Our conservatories and orangeries come with a comprehensive guarantee. Thanks to the quality of our craftmanship and our knowledge of the latest manufacturing techniques, your installation will be weatherproof, energy efficient and comfortable in all seasons, ensuring year-round pleasure for you and your family.Increase your home's footprint. Flood your world with light.
Burst open your living space and watch your family flourish. Our designs are based around families like your – we get that your needs change over time and that sometimes a little extra elbowroom is essential to maintain the equilibrium. A bespoke conservatory is the perfect way to accommodate your families' evolving needs. The new multifunctional space will give everyone the space to thrive and live in harmony.
Common questions
Is it uPVC or PVCu?
You might have seen different people refer to uPVC, and others to PVCu – but which one is correct? In fact, they both mean exactly the same thing; unplasticised Poly Vinyl Chloride. In English, those acronyms result in uPVC, but in the 80s it was formally changed to PVCu as the majority of European languages say the noun (PVC) before the adjective (u). Despite the change, in the UK the plastic is often still referred to as uPVC. There's no need to worry – whichever way it is written, it still refers to the same durable plastic that we use to create many of our doors, windows and conservatories.
Is it worth having a conservatory?
Having a conservatory can make a real difference to your home. It is one of the easiest ways to add space to your home without having to apply for planning permission – which can be a slow and costly process – or wait weeks for a full extension to be completed. The extra space is extremely versatile; it can be space for you to hold dinner parties, a playroom for children that doesn't mess up the main living room of the house, or even as a calm space for you to feel closer to nature. If you're hankering after a little extra space in your home, then a conservatory can be a great option to extend your home without the hassle.
Are conservatories cheaper than extensions?
In general, conservatories are always cheaper than extensions of the same size. This is because extensions use a variety of different materials, including concrete, bricks, a roof and windows, and have to comply with certain insulative regulations. A conservatory on the other hand is made mostly of glass with either an aluminium or PVCu frame, and so once it has been made in our state of the art factory, it is much easier and faster to build and secure. If you're looking to build a conservatory on your home but aren't sure how much it would cost, contact us today for a free, no obligation quote.
Do you need planning permission for a conservatory?
In almost all cases it is not necessary to apply for planning permission for a conservatory, as it usually falls under "permitted development" rights. This means you can extend your property as long as it is not excessively large and the roof isn't higher than your existing roof. If you contact us with a conservatory that might need planning permission, we will let you know so that you can take the appropriate steps to do so. All our products are approved by CERTASS which provides a Building Regulation Compliance Certificate for any work we carry out. If you're not sure whether your conservatory would need planning permission, contact us today to find out more.
0% APR representative on orders over £3,000
We have various low-cost finance options available. Get a quick quote and apply for finance at the same time.