Brochures
Many people have a specific idea of what they would like when it comes to choosing new windows for their home. However, our many years of experience in the business has taught us that often, a bit of inspiration can trigger a change of heart. After a little browsing, you might find there's a better option than your original choice of window style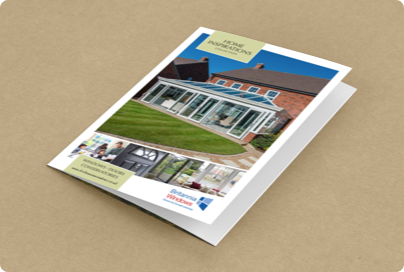 When designing our brochures, we wanted to help you to envision how different options would fit the style of your home and help you choose the elements you like best. The choice of window style, from sleek flush casement to modern tilt and turn, can totally transform your home's  look and feel; you might find you browse through and find a favourable option to the one you originally had in mind. One thing is for sure; there's something for everyone here at Britannia, whether you love period-style traditional designs or a more contemporary modern look. Food for thought!
Our skilled manufacturing team are based in Cleveland, North Somerset and create bespoke windows, conservatories and doors in a cutting-edge factory. 
You'll find that our uPVC wood finish window frames are virtually identical to real wood, but don't require any time-consuming maintenance. Come and visit us to view the variety of decorative glass options and colour finishes available and/or download our brochure to browse from the comfort of your own home. Simply contact us for any advice and information along the way.